July 7, 2020
As the industry focusses on homeowner acquisition strategies, we recently had the opportunity to sit down with Wes Walker, CEO/Co-founder of Propersum, a new technology platform for vacation property managers where you can search for properties that fit your brand and program, submit proposals in seconds, and grow inventory at a fraction of the cost and a fraction of the effort. Designed to cut through the clutter, Mr. Walker and his CTO and Co-Founder, Ben Rose, utilized their prior experiences in vacation rental management, real estate, and software development to create a new streamlined method of homeowner acquisition.
"For property managers the process of acquiring new properties in your portfolio can be time-consuming and expensive. We were investing a great deal in marketing and found more often than not we were spending a large portion of our time educating our leads, both real estate agents and interested buyers, on the basics like the general costs of vacation rental ownership rather than focusing on what made us unique as a vacation property manager," says Mr. Walker.
From this need Propersum was born, creating one place where Property Buyers, Real Estate Agents, and Vacation Property Managers can go to connect, providing buyers confidence in rental figures, agents the tools to sell faster and easier, and managers the resource to efficiently and affordably acquire new inventory. Mr. Walker explains, "Propersum is 10 times faster, 10 times less expensive, and 10 times more scalable than the traditional process. We facilitate the connection for property managers to easily create and post proposals to qualified and interested leads in a very efficient way and then they control the conversation from there."
Benefits for Vacation Property Managers
Shop for new properties to add to your rental program.
Post a simplified and protected proposal in seconds to promote your services.
Pre-Qualify your inbound homeowners with the basics prior to lengthy sales conversations.
Expand your proposal's effectiveness by reaching more agents and buyers across the country.
Grow your rental inventory at a fraction of the cost and a fraction of the effort.
How It Works
Real estate agents and brokerages request to add their active listings for sale.
Vacation rental managers select qualified vacation rentals based on local market knowledge and service area.
Vacation rental managers privately submit property-specific proposals of rent potential and management commission using Propersum's double-blind proposal process.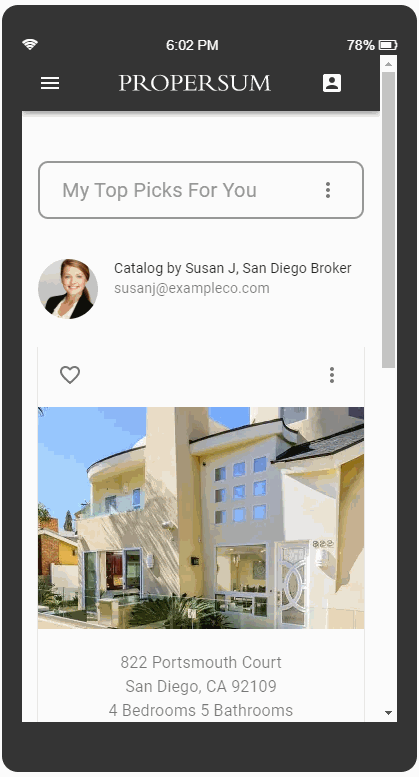 The double-blind process is designed to create proposal accuracy in two ways; first, managers submitting proposals for a property are unable to see competitors' proposals, and second, managers are naturally incentivized to submit proposals within a reasonable range of competitors' blind proposals. This unique process creates higher-quality rental potential estimates, protects buyers from "overly optimistic" figures, and provides a professional group consensus of rental potential in a double-blind format. Utilizing just two numbers, estimated annual rent and commission charged, potential homeowners get the basic financials they need for specific properties and direct access to vacation property managers for a qualified, next step conversation. Luxury-level homeowners can discover luxury managers, and budget homeowners can find budget managers.
Now in over 20 cities, Propersum is free for everyone to explore and is rapidly growing, projected to be in 50 cities over the next year. With a current promotion offering 40% off new memberships plus an additional year for free, interested property managers should visit Propersum.com for more information.
Update August 19th, 2020
Now Xplorie partners can enjoy 20% off! Contact the Xplorie sales team for the full details today.